MONTY HALL
(1921 – present)
Would you give up a new bedroom set by looking behind curtain #2, with a chance for something even better or just getting "zonk"ed out of a deal? Well with Monty Hall at your side, you were convinced you could never lose, no matter what.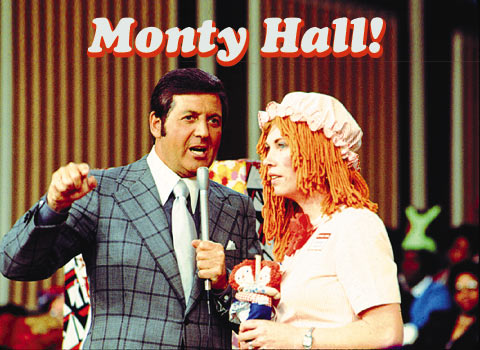 Born on August 25th, 1921 in Winnipeg, Manitoba Canada, Monty was raised well. However, he had to drop out of college due to lack of funds. One day, he was washing the steps of a building when a man spoke to Monty's father and asked why he wasn't in school, and when he learned of the lack of funds, the gentleman asked Monty's father to see him. The gentlemen loaned Monty the money to go back to college. Monty kept an A average, went all the way through college earning a Bachelor Science degree, and paid the man back. Since then, he has been involved in charities to help out with children and college tuitions.
Monty got involved with tv box sets and was doing a show called Video Village on CBS as an emcee. He sold his first show, Your First Impression and needed a producer, therefore hiring Stefan Hatos. Monty was busy running in-between two studios for tapings and then, he and Stefan would have lunch together. Together, they thought up of Let's Make a Deal. After showing it to ABC and NBC, they both loved it but turned it down because they wouldn't know what would happen the second day. Back then, CBS was not looking into game shows. A few months later, an executive at NBC insisted for a pilot to be made, and it was made, but then they waited 6 months before it was time. They were put in a time slot where shows had only lasted for 13 weeks, but Let's Make a Dealwas nothing more than a success. Jay Stewart was the announcer for the run, and it proved to be amazing. It lasted for more than 2 decades.
In 1972, Monty sold another show to ABC called Split Second. Although it's not a really good remembered show like Let's Make a Deal, Split Second was the second most popular show for Stefan Hatos/Monty Hall Productions. The show lasted for 3 years and 3 months, hosted by Name That Tune's very own Tom Kennedy, and its finale was to be remembered well. Split Second made a return in 1986 with Monty Hall at the helm and although it turned out pretty well, not a lot of stations picked it up and it was cancelled in a year. After that, Stefan Hatos/Monty Hall Productions disbanded. The Family Channel re-aired Hall's Split Second on its game show block in the early 90s. Kennedy's version of Split Second is said to be wiped, even though there are at least 3 episodes on the trading circuit today, including the 1975 finale. Although the 70s version of Split Second can be downloaded off the Internet, it is undetermined where the 80s theme can be found. A pilot for a 1990 revival of Split Second was taped with Robb Weller as host and would've been packaged by Ralph Edwards/Stu Billett Productions, but it didn't pass.

At 88 years of age, Monty Hall is a retired game show host now. He resides in Beverly Hills, CA with his wife of many years, Marilyn Hall, and is a proud father to 3 children, daughters Joanna Gleason and Sharon Hall, and son Richard Hall. Joanna is a Tony Award winner, Sharon is a television executive, and Richard is a television producer. Also aside from all that, Monty has been involved in children's charities, started one the week he married his wife more than 50 years ago, and still makes occasional television appearances. On the shorter-lived revivals of Let's Make a Deal, he has come back to make a cameo host for at least one episode of each. He surpassed Bob Barker to be the oldest game show host, with Bob Barker presently 83 years old. With some television appearances today, he appeared on the Today Show on Game Show Legends week in 2002, which you can see in these 2 vids right here:
Hall's partner, Stefan Hatos (pictured left) died of a heart condition in 1999. Let's Make a Deal announcer, Jay Stewart (pictured right on the 1975 Split Secondfinale) committed suicide in 1989 going into depression after his own daughter, Jamie had committed suicide. Carol Merrill (pictured center) has been involved in environmentalist issues.
My friend and fellow game show fan, Philip Cousin had the privilege to meet Monty Hall in person and happened to get his autograph.